Every birthday party is incomplete without a delicious slice of birthday cake. A cake is always a welcome addition, whether you are celebrating an adult's or a child's birthday.
This is because when individuals host birthday parties, they do so primarily to demonstrate their affection for the recipient, whereas a usual meal would be nothing special. So, a birthday cake is important for the person being honored to feel loved.
In addition, birthday cakes encourage guests to linger after the food has been served. People anticipate the birthday cake-cutting ceremony, singing, playing, and eating cake during the waiting period; this produces an enjoyable and exciting party atmosphere.
There are several sorts of cakes and numerous ways to divide them into multiple categories, but expert bakers classify cakes according to their components and mixing techniques. The texture of the batter will vary depending on how it is prepared. Moreover, modern cakes come in a variety of sizes and styles. If you choose a distinctive cake, it may become the talk of the party!
Birthday Cakes
Red Velvet Cake
Chiffon Cake
Butter Cake
Pound Cake
Sponge Cake
Genoise Cake
Angel Food Cake
Biscuit Cake
Bowl Flourless Cake
Flourless Unbaked Cake
Carrot Cake
1) Red Velvet Cake
Red velvet birthday cake, a classic and popular choice, is a butter cake, albeit one that is often baked with oil instead of butter. Initially, the red velvet cake batter was created by the reaction of buttermilk and unsweetened cocoa, yielding a crimson crumb. In contrast, red velvet cakes are commonly colored with red food coloring and chocolate to achieve their distinctive flavor. After the cake has been baked, it is frosted with cream cheese frosting to impart a deliciously tangy, creamy flavor.
2) Chiffon Cake
A traditional chiffon birthday cake combines oil cake and sponge cake. It contains baking powder and vegetable oil, but the eggs are separated, and the whites are whisked until soft peaks are formed before being mixed into the batter.
This results in a cake with a soft crumb and rich flavor, similar to an oil cake but with a lighter texture like a sponge cake. Chiffon cakes can be made in tube pans or with fillings and icings in layers.
3) Butter Cake
After creaming, eggs are added to aerate the batter; flour and milk are added to give the batter structure and texture; and then baking soda or baking powder is used to ensure that the batter rises in the oven.
Within the family of butter cakes, there are chocolate, yellow, white, and marble cake batters. The color of white and yellow cakes often depends on whether they contain entire eggs, extra egg yolks, or solely egg whites.
Those with additional egg yolks will be yellow, while those with only egg whites will be white.
4) Pound Cake
The pound cake, a relative of the butter cake, derives its name from its proportional ingredients: one pound of butter, one pound of sugar, one pound of eggs, and one pound of flour.
In some recipes, the eggs are separated, and the egg whites are whisked and folded into the batter to leaven it. In others, ingredients such as baking soda and baking powder are incorporated into the butter cake mixture.
These cakes typically have a mild flavor and are eaten plain or with a basic frosting. Typically, the pound cake is prepared in a loaf or Bundt pan. Included in the variations of pound cakes are coffee, fruit crumb, and sour cream cakes.
5) Sponge Cake
A sponge birthday cake is any recipe that calls for an abundance of whipped eggs or egg whites but no baking soda or baking powder. There are several sponge cakes with various names available everywhere.
6) Genoise Cake
In France and Italy, sponge cake is known as genoise; it is made by beating whole eggs with sugar until they become thick and ribbon-like. After adding flour and sometimes butter to the mixture, it is baked in a circular cake pan. The cake is then frosted with fresh icing. Note that genoise can be baked in a jelly-roll pan and wrapped into a roulade.
Because a genoise birthday cake lacks a distinct flavor, it is frequently used to make rolled or tiered cakes when a cake with a lighter texture than butter cake is needed.
If you want to add flavor and moisture to the genoise cake, wet the layers with flavored syrup before slicing them into thin horizontal layers and stacking them with rich fillings such as buttercream. Strawberry shortcake is a classic Genoise dessert made with strawberries.
7) Angel Food Cake
Angel food cake is a delicate, snow-white cake with only egg whites and no yolks. It is produced by beating egg whites with sugar until the mixture becomes firm, then gently mixing in flour. Angel food cakes pair well with fresh fruits and have a sponge-like, chewy texture due to their relatively high sugar content and lack of egg yolks.
This sort of cake would collapse if cooled right-side-up in the pan or if removed from the pan while still warm. Inverting angel food cakes after baking them in grease-free two-piece tube pans allows them to cool.
8) Biscuit Cake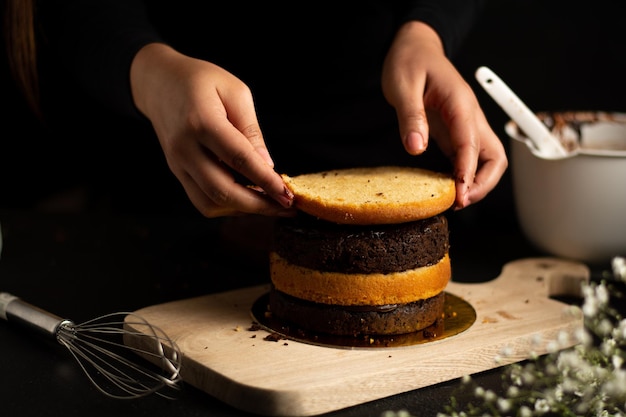 Biscuit birthday cakes are another type of sponge cake containing egg yolks and whites; however, unlike genoise, the yolks and whites are whipped separately and then folded back together. This produces a light batter that is drier than a genoise cake but retains its form better after mixing. As a result, biscuit cakes are frequently used to make pipped-shaped pastries such as ladyfingers. If sponge cake is baked in a tube pan, it will become highly chewy.
9) Bowl Flourless Cake
These pastries include baked cheesecakes and chocolate cakes without flour. For easy removal, they are frequently baked in springform pans. However, they can also be baked in standard round cake pans.
This birthday cake is baked in a water bath, which requires placing the filled pan in a bigger pan half-filled with water to shield the creamy, fragile cake from the oven's powerful bottom heat, which would give the cake a porous texture rather than a smooth one.
10) Flourless Unbaked Cake
As the name implies, these cakes are formed in a dessert ring or springform pan before being refrigerated and unmolded. Typically, they have a baked crust or bottom layer before the mousse is applied. Sometimes, genoise or biscuit layers are interspersed with mousse layers. Other varieties of unbaked flourless cakes include mousse cakes and cheesecakes.
11) Carrot Cake
The carrot cake uses the same leavening techniques as the butter cake, but instead of butter, it uses neutral oils such as canola or vegetable oil. Because of this, carrot cakes can be stored a little longer than butter cakes, but they can occasionally be on the greasier side. The procedure is identical to that for a butter cake, except that sugar and eggs are beaten before the oil is added, rather than butter and sugar.